Discover more from The Monday Morning Coach
A Monday Morning Motivational boost to help you kickstart your week with purpose and intention.
Damar Hamlin's Injury Should Compel Us to Look Beyond Football
CaPC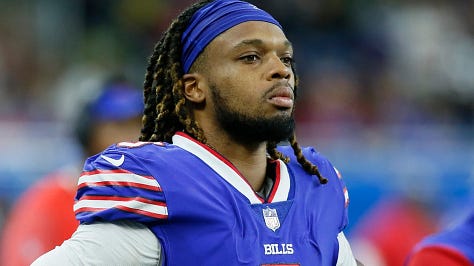 Last night I felt compelled to publish the article below in response to Buffalo Bills' safety Damar Hamlin's sudden cardiac arrest on Monday Night Football.
Part of the reason I started this newsletter is because I wanted to highlight the humanity of everyone involved in sports, and to help us value our opportunities to pour into athletes, coaches, and overall—people.
I'm also a staff writer for Christ and Pop Culture where I write my own column called The Coaches Box that highlights in more detail the same sense of humaneness in sports.
The Monday Morning Coach is a reader-supported publication. To receive new posts and support my work, consider becoming a free or paid subscriber.